Why Studying Locally Gave Me the Skills to Move Away Later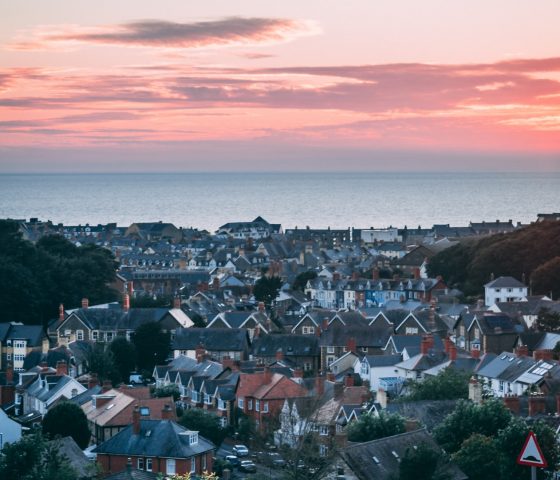 Amelia is from Anglesey, North Wales and studied undergraduate and postgraduate degrees in Fine Art at Aberystwyth University, Mid Wales. During her time in Aberystwyth, Amelia got involved with a range of different activities such as teaching an art class for over 60s, working on a summer residential programme for students across Wales and volunteering weekly at a local florist. Upon completing her degree, Amelia started working for HeppSY as a Higher Education Engagement Assistant.
Staying close to home
Sometimes people ask me why I wanted to go to a local university, why I wasn't prepared to move away from Wales to study and why I wouldn't push myself to go further. In all honesty, I didn't feel ready to make such a big move; I felt that Aberystwyth University would offer me the space to grow personally, and I knew I didn't need to move far from home to gain skills I could later rely on.
Prior to attending Aberystwyth University, I studied A-levels at my secondary school. Some people prefer to go to a different college or sixth form for their further education, but I knew my teachers and the area and felt comfortable studying there. My secondary school offered me the space to grow and develop skills I later used within my degree. I learnt how to reflect and be critical of the art I produced; critical thinking is something I later relied upon during my degree.
Studying by the sea
I remember the first time I visited Aberystwyth, driving down the hill the University sits upon, facing the sea and thinking, 'yes this is for me'. It was bigger than the town I grew up in, but it was close enough for me to head home for the weekends if I wanted to. In my first year at Aberystwyth University, I lived in halls of residence, before renting privately for my final two years. This gave me experience of living independently, cooking my own meals and ensuring I had everything I needed each week, which was something I hadn't really done before!
Aberystwyth was a wonderful place to meet people from all over the world. I joined different societies, my favourite being the Tickled Pink Society, which raises money for breast cancer charities. Through various activities like bake sales, glitter hijacks and a glitter party, I met loads of people and learnt invaluable skills such as budgeting and managing an event.
'University gave me confidence that I could do anything I put my mind to'
I also volunteered at a local florist every Saturday for 3 years, which gave me customer service skills and enabled me to focus on something creative at the weekend. Through my work at the florist, I met someone who asked me to take a photograph for her book cover, which gave me my first experience of creating a commissioned piece of work! At university, I had the opportunity and the space to gain so many skills, from budgeting to meeting new people, and this gave me confidence that I could do anything I put my mind to.
Without attending university, I wouldn't have gained as many skills or pushed myself out of my comfort zone as much as I have done. University taught me things that allowed me to move away from Wales to Sheffield. Moving two hours away from my home still taught me how to be resilient and confident in myself, and my family and friends were close by. Sounds like a win-win situation, right?
Do what's best for you
If you're worried about being far from your family but still want to experience moving away from home, you shouldn't be put off by other people's opinions. University is what you make of it and if it makes you feel comfortable being close to home, then do what you feel is best for yourself. You'll still gain skills, make friends for life and experience university life, whether you are thirty minutes away or three hours away. Without doing what made me feel comfortable at the time, I wouldn't have gained the skills that would have allowed me to be where I am today. My advice would be to make the right choice for yourself, no matter what anyone else says! It's all about you.
Categories: Graduate Interns.