Students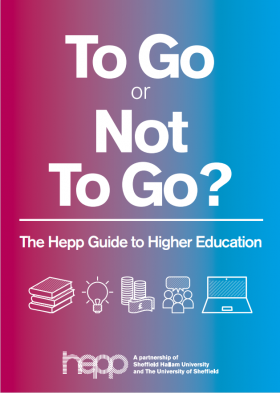 To Go or Not To Go? The Hepp Guide to Higher Education
Type: Booklet
Year Group: Y7, Y8, Y9, Y10, Y11, Y12, Y13
Have you considered progressing onto higher education?
Are you not sure what you want to do with your future?
Do you think higher education may not be for you?
As a student at secondary school, 6th form or college you have a lot of important and exciting decisions coming up about your future – a number of decisions will be regarding higher education; To Go or Not To Go, what and where to study, what you need to do in order to get to where you want to go …
Hepp is here to provide you with all the information you need to make an informed decision about progressing to higher education. That doesn't have to mean university. It could be a college course or an apprenticeship. If you want to have a look at a higher education provider yourself then check our Hepp Connects pages to find out about events relevant to you.
Download our booklets (below) for lots of tips and information to help you start exploring and understanding your options.
Sheffield Hallam University – Student Support Services
---