Parents/Carers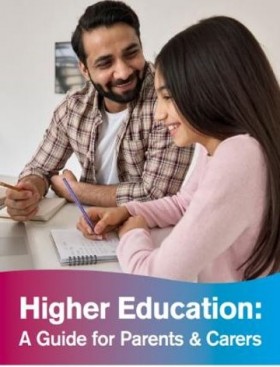 Higher Education: A Guide for Parents and Carers
Do you have questions or concerns about your child's future choices? Are you unsure how to support their decision making? Have you considered their options of progression into higher education?
Parents and carers have a huge influence on young peoples' life choices, including their future progression. This can be difficult and confusing to navigate, particularly if you haven't got experience of higher education yourself, or things have changed since you were in that position. Perhaps you have concerns about student finance and the cost of higher education. You may be worried about their additional academic or personal needs, and you're not sure if higher education would be able to support these needs.
These are all normal and expected worries; most parents and carers have many similar concerns. We are here to provide the information that you need, to help your young person make the right choices for them. We specialise in helping people (parents and carers included!) find out more about higher education. This doesn't always mean university; it could be college courses or apprenticeships, check out our Hepp Connects page for more information about events related to you.
Download our booklets (below) with lots of tips and information, to help you support your child to start exploring, and understanding their options. Or visit our partners' websites where you can find out more about their offers:
Sheffield Hallam University – Information for parents and carers
The University of Sheffield – Information for parents and carers
---