News: King Edwards VII student wins Hepp Award for Aiming High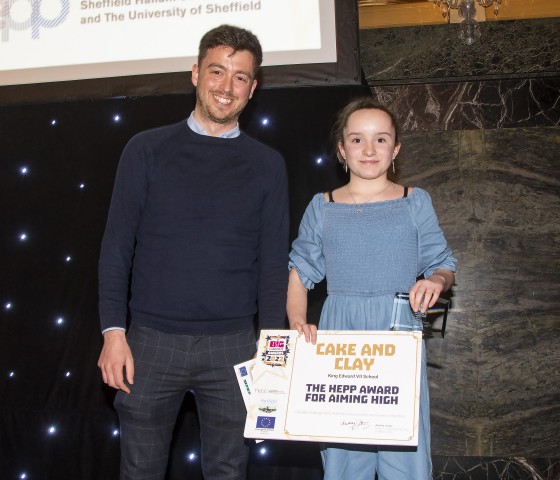 This year we have been supporting enterprise education in our local region by sponsoring an award for the BiG Challenge. The BiG Challenge is an enterprise competition open to all Y7-Y9 students in Sheffield. Each team has the opportunity to design and grow a business from a £25 start-up loan.
We sponsored the Aiming High Award which is awarded to the team who were most ambitious and displayed the values and skills required at Higher Education.
On 23rd March two of our Hepp colleagues, Joe and Audie, were invited to attend the BiG Challenge 2022 Awards event, held at the Cutlers' Hall in Sheffield, to celebrate the top teams from this year's competition.
Sponsors and special guests took to the stage in the prestigious venue to award prizes to businesses from schools around Sheffield. This year's awards recognised achievements in a range of categories including creativity, problem solving, marketing and sustainability.
Hepp's Regional Activities Coordinator for Sheffield and Bassetlaw, Joe Abram, presented The Hepp Award for Aiming High to the business 'Cake and Clay' set up by a student at King Edwards VII School.
Joe said: "It was a great experience being part of the BiG Challenge Awards and the standard was extremely high! The reason Cake and Clay stood out was Faye's use of her skills such as creativity and ambition to develop and sell her product, and her awareness of when to ask for support in other areas, which is key in Higher Education settings. We are looking forward to welcoming Faye onto Sheffield Hallam University campus as part of her prize."