Part Time Jobs and Society Roles at University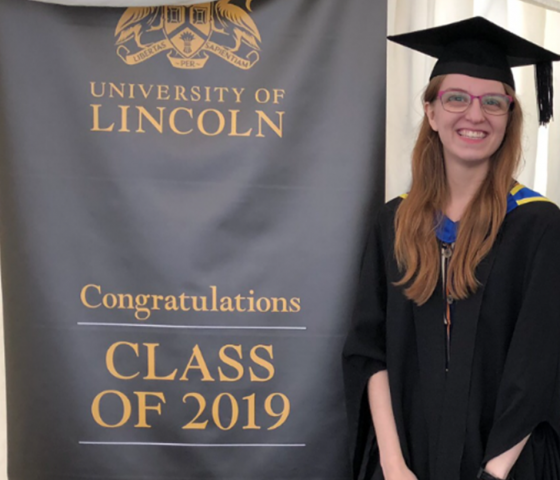 Georgie is from Sheffield and moved to Lincoln to study Psychology at the University of Lincoln. During her time at university Georgie had various roles working with students for the university. She now continues this work as a Higher Education Engagement Assistant for Hepp.
The roles I had at university:
Whilst I was a student, I was involved with various opportunities that allowed me to engage with prospective students, encouraging them to apply to and attend university. I had several part-time jobs working for the university; as an open day accommodation assistant in my first year and then as a school ambassador for the School of Psychology in my second and third years.
I was also part of a society, which is a club run by students for students who have similar interests or hobbies. I was elected as the Vice-President of the Harry Potter Society in my final year.
Why get involved?
Most people who go to university are entitled to a tuition fee loan to cover course fees and a maintenance loan to cover rent, food and bills. However, it is important to have a budget to ensure these things can be covered. Throughout my time at university, I had a £50 per week budget which meant saving receipts so I could keep track of my spending, sounds easy right? You'd think but things add up…and quickly. Having a source of extra income from my part time jobs gave me a little extra in the bank to spend on fun stuff that made up the social side of my university experience. This included things like cinema trips with my mates and nights out. Not to sound like an advert for Tesco, but every little really does help! Any extra income you can save will also help towards costs once you have graduated (or are an 'adult in training') like car insurance, rent and bills etc.
Gaining work experience and getting paid was great but the most important thing was it was FUN! I absolutely loved my time working at open days, I got to work with a great team of people who also became close friends. I was able to get excited about my course (cue my inner psychology nerd) and university experience with prospective students who were considering university and studying psychology. Getting to be a role-model for prospective students by sharing my experiences of university with them, giving them advice, and answering any questions they had about university was super enjoyable. These jobs were also really rewarding. I got recognised on occasion by those I'd spoken to on open days and knowing they'd applied to and successfully got into university made me really proud of my role as an ambassador.
University isn't just about studying and working, it's about the whole experience. Which is why being a part of the Harry Potter Society was a massive part of my time at university, especially during difficult times in my first year. It was the place where I could go each week to have a break from everything and just enjoy the socials with friends. From being a member to then getting involved in the running of the society, becoming Head of Gryffindor (high-five fellow Gryffindors) and then Vice-President, it was great fun. It meant I could contribute weird and wonderful ideas for activities we'd run for members alongside the rest of the committee. It was also great to meet even more new people and get very excited alongside my fellow Gryffindors when we won the house cup in my final year. Leading a society during my time at university also helped when applying for jobs after university as I had various experiences to draw on.
Shaping my future career:
When I was deciding what to do after university, I realised how much I enjoyed my student recruitment roles with the university, which made me investigate jobs within the higher education sector.
Without my experience in these kinds of roles at university I never would have understood how much I enjoyed providing support and knowledge to students about university and I could have gone into a completely different job than my current role with Hepp.
This goes to show how the experiences you have help shape your future decisions, so get involved with all the opportunities you can at university. It's important to do what you enjoy as that's what's going to make you happy, which is the most important thing!
Categories: Graduate Interns. Topics: Benefits of HE and Student Life.