News: New Hepp Offer Goes For Launch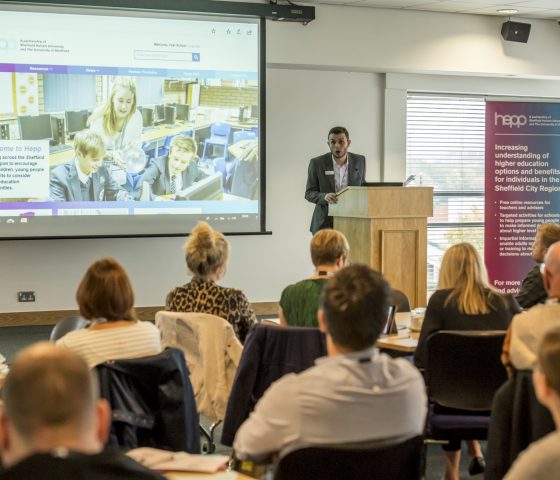 On Thursday 11th of October, representatives from secondary schools across the Sheffield City Region gathered together at 'The Source Skills Academy' to find out about the new Hepp offer, which aims to encourage more young people and adults to progress into higher education.
Hepp Director, Mike Garnock-Jones welcomed everybody to the conference: 'Hepp is a long-standing partnership between both universities in Sheffield, however it has recently gone through its biggest change since its inception in 2011, launching a brand-new online offer for use across the region.'
Chair of the Hepp Board and Professor of Economics and Vice-President for Education at University of Sheffield, Wyn Morgan said: 'It's an exciting time for Hepp as they launch their new service to schools. The Sheffield City Region has low productivity and a skills gap that needs to be addressed. The more talented, excited and really interested young people and adult learners we can bring into higher education, the better. This new offer will help allow young people to flourish, develop and have fulfilling careers.'
Explaining the Hepp offer, Gemma Styles, Head of Hepp said: 'For the first time ever resources from Hepp and resources from both universities in Sheffield have been combined in an online repository, creating a ''one stop shop'' for all our partner secondary schools.'
Continuing: 'The aim of this is to bring everything into one place for people, as this landscape can be incredibly confusing'.
Fiona Simpson and Mel Green, Regional Activities Coordinators for Hepp, continued to explain the new Hepp offer, focusing on face-to-face engagements from the Hepp team of Higher Education Engagement Assistants. Detailing how they can go out to schools with fun and engaging workshops for the students, which aim to educate them about three key topics: 'The Benefits of Higher Education', 'Student Finance' and 'Choices and Pathways'.
After a networking lunch, it was time to 'Get to Grips with Gatsby' where delegates were informed about how the new Hepp offer could help their schools to meet Gatsby benchmark 3, 'Addressing the needs of each pupil', and benchmark 7, 'Encounters with further and higher education'.
Guest speaker and mature learner, Lee Hughes, closed the day talking through his journey into higher education and how organisations such as Hepp could have helped him along the way. He explained: 'Growing up in Barnsley, words like university were alien to me, doing something other than a trade was only for clever or posh people.'
Lee went on to describe some hardships he faced in his teenage years and early 20s which included becoming a heroin addict. After 'digging deep' and getting clean, Lee enrolled in an access course at the Northern College. Since then, Lee has passed his diploma with a distinction, been awarded Adult Learner of the Year and Outstanding individual in 2015, represented the Northern College twice in Parliament, worked alongside EU colleagues at Erasmus, spoken at numerous further and adult education events across the country and is currently in his fifth year at Sheffield Hallam University as a masters student with hopes of continuing to study towards a PhD.
Summing up the day one delegate said: 'The new Hepp offer will be transformational to schools'.